WHO WE ARE
Fushan Technology Vietnam is proud to be a factory of Foxconn - a world's leading corporation in manufacturing electronic components, telecommunications equipments and computers.

Entering service in 2013, the factory was formerly known as Nokia feature phone site, with a total value of investment of more than 300 million dollars and the construction scale of 17ha.

In 2014, the factory was owned by Microsoft - a largest soft-ware company in the world, and became the unique factory of Microsoft in producing feature phone & smart phone in the world.

In 2016, Fushan officially became a part of of Foxconn Group. Inheriting the most modern infrastructure in Vietnam, along with effective management systems from Nokia and Microsoft, Fushan continues to focus on technology solutions to expand production scale and diversify products.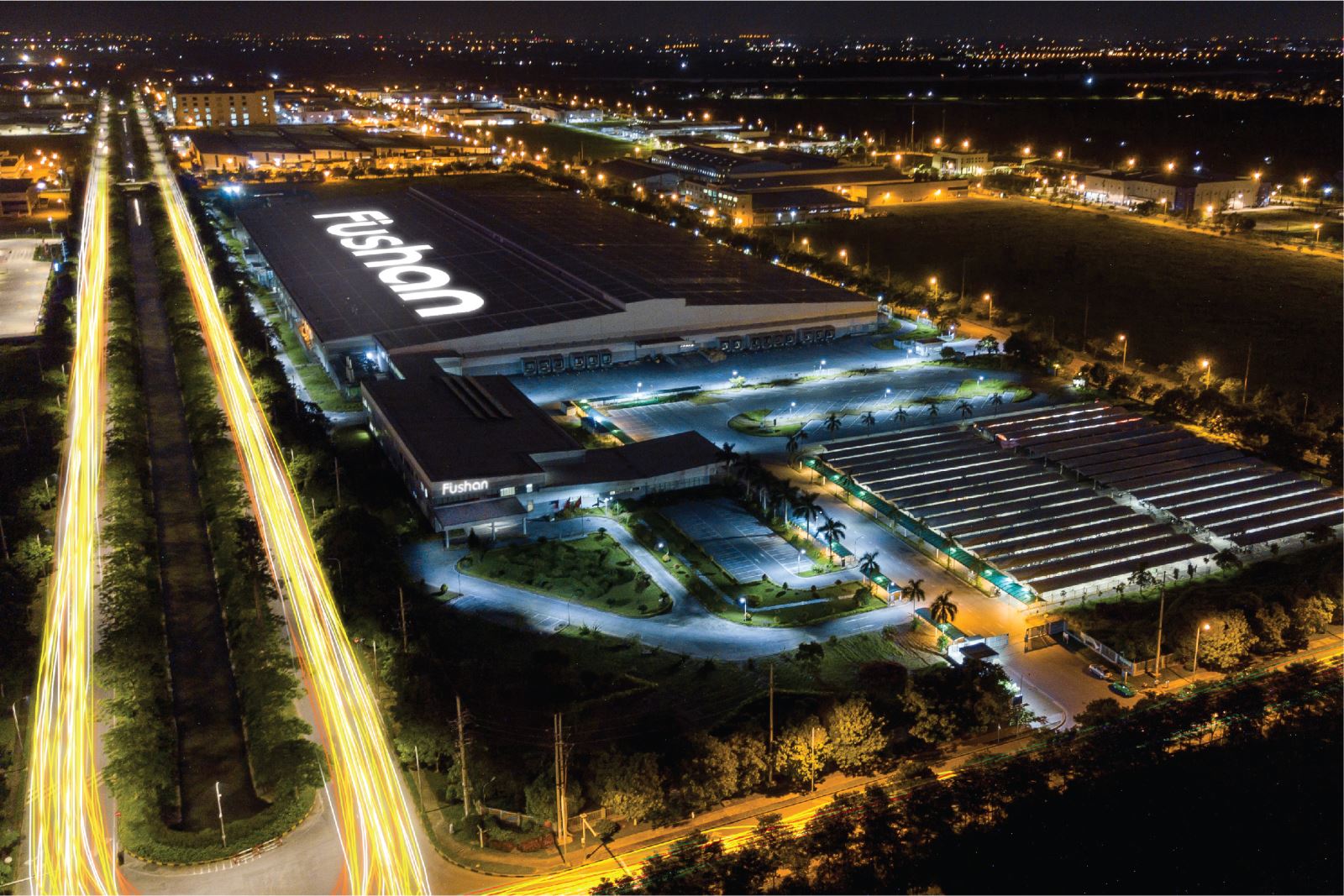 STRATEGIC LOCATION
Located in VSIP Industrial Park - Bac Ninh province, 20 km from Hanoi - the National captital of Vietnam, 40 km from the nearest airport and 120 km from the nearest seaport, Fushan Factory is conveniently connected to all major road systems, seaport and airport of Northern Vietnam, easily to access for global shipping.
With the facility system following EURO standard, Fushan Technology Vietnam is considered as one of the most modern company in Northen Vietnam with 172,537 m2 of land area, total 67,000 m2 of construction area and 25,900 m2 of production space.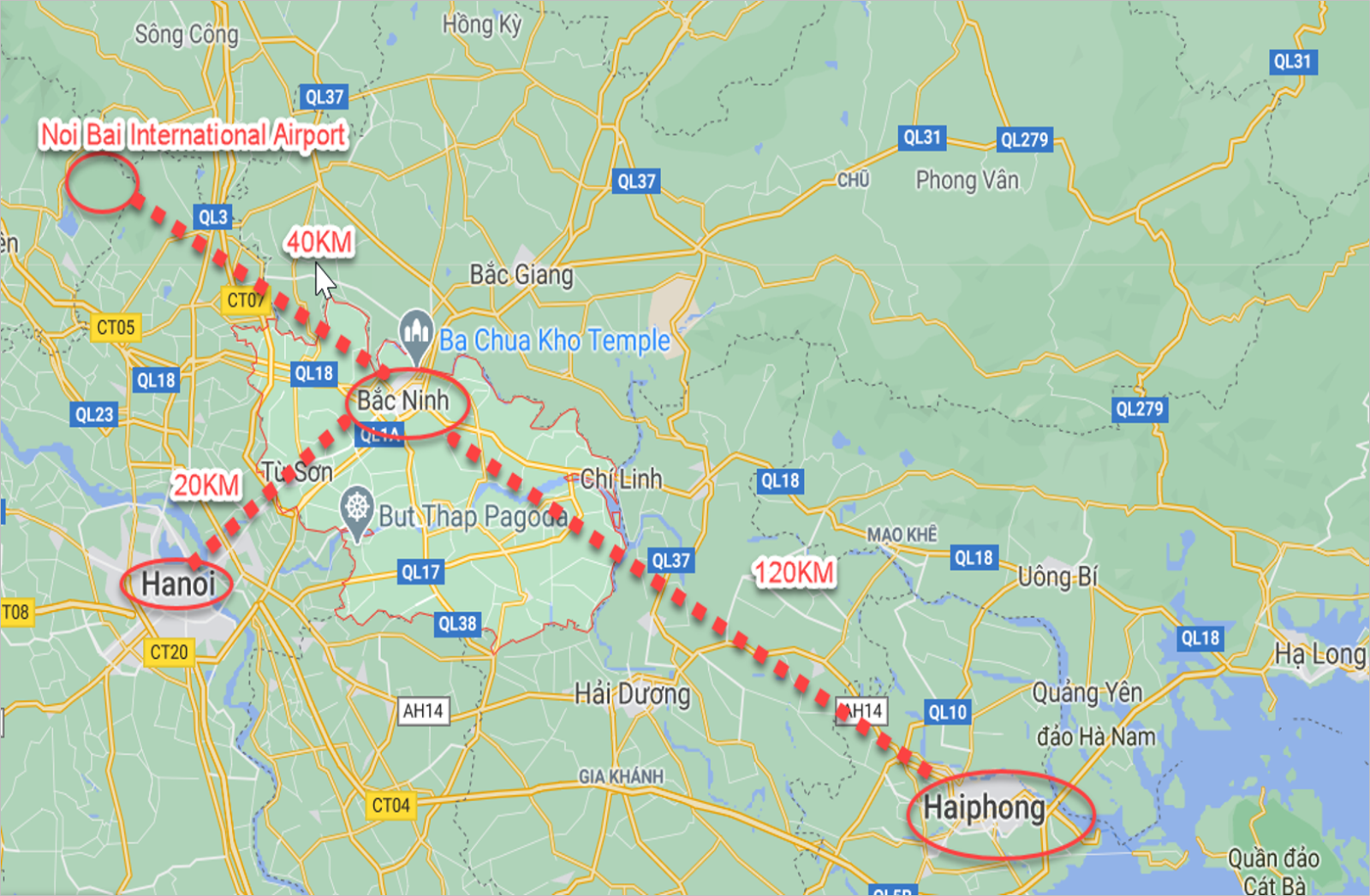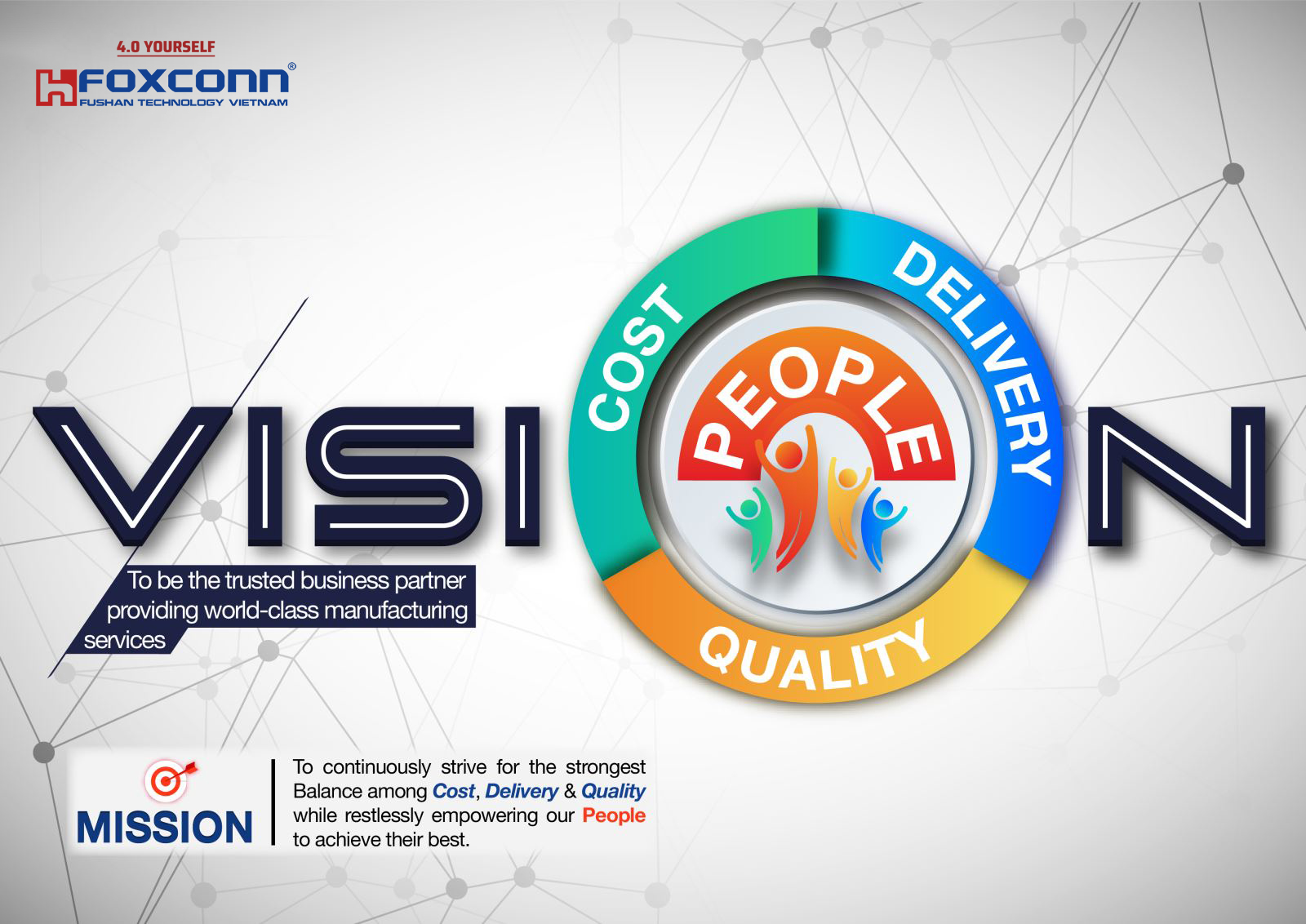 VISION - MISSION - CORE VALUES
Vision: "To be the trusted business partner providing world-class manufacturing services."

Mission: "To continuously strive for the strongest Balance among Cost, Delivery, and Quality while restlessly empowering our People to achieve their best."

Core Values: "People, Integrity, Winning, Efficiency, Innovation."
CERTIFICATES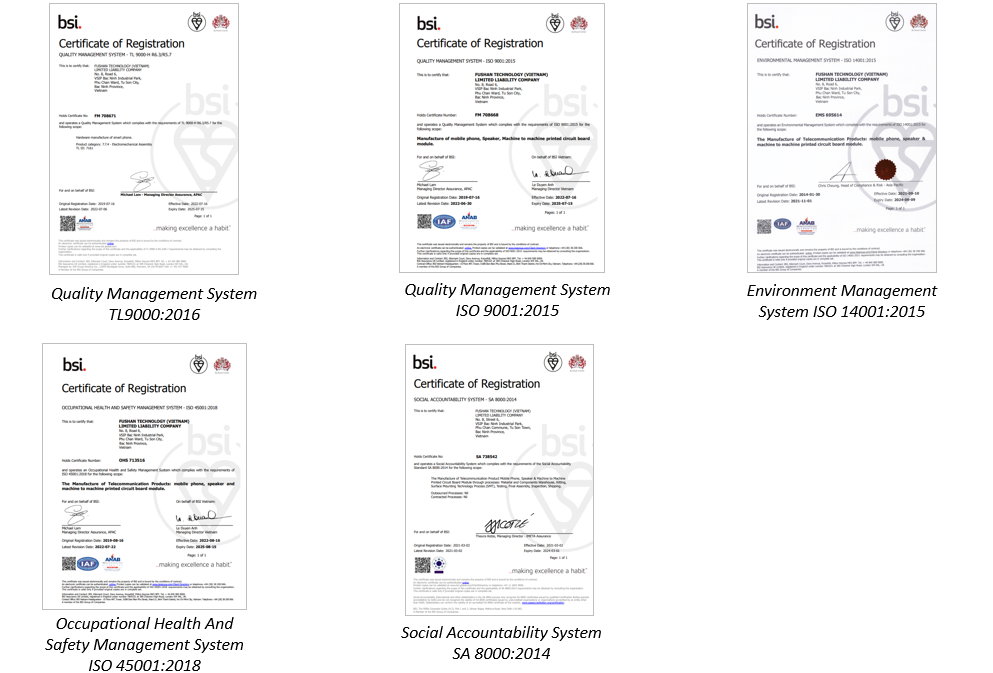 ENVIRONMENT, HEALTH, SAFETY AND SOCIAL RESPONSIBILITY POLICY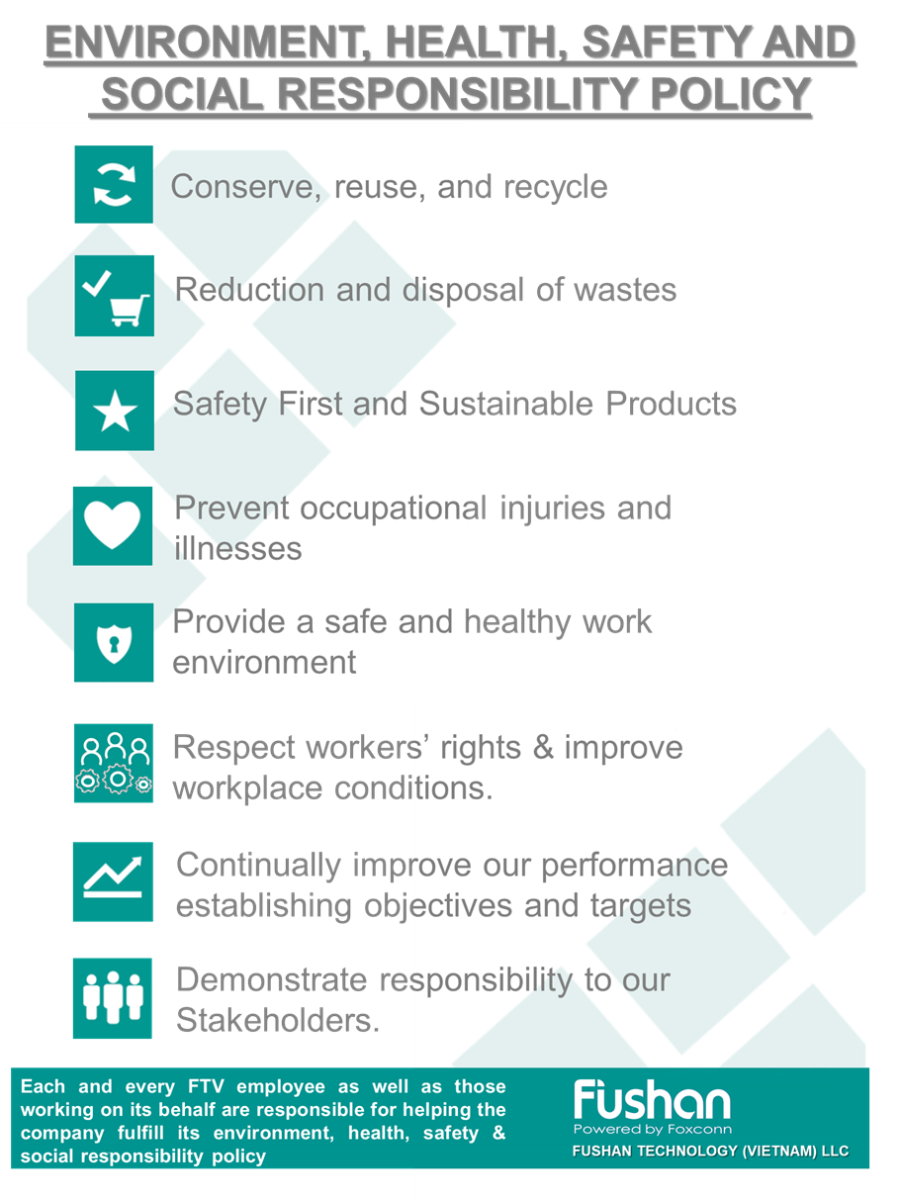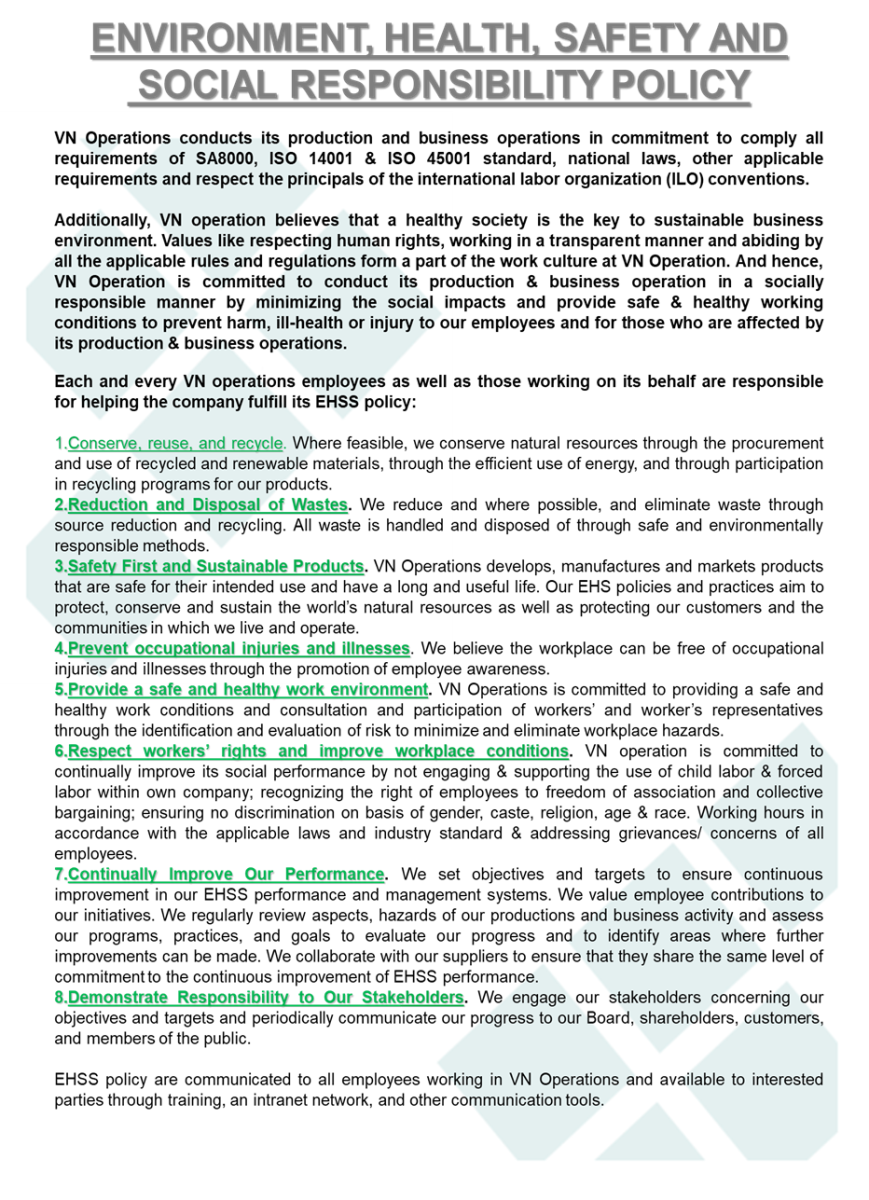 UNIQUE WORKING ENVIRONMENT
The working environment is considered as a core factor in retaining and motivating employees. Therefore, FTV is committed to actively promoting the creation of the best working environment, supporting and increasing productivity. Several activities to engage employees and develop the positive energy at the factory can be mentioned as teambuilding activities which occur twice bi-quarterly (for IDLs); or events to celebrate special holidays (year-end party, children's day festival, mid-autumn festival ...), or meetings to share information, to express the understanding and empathy between employees and their managers such as skip level lunch, coffee talk, all hand; training and development activities to enhance employees' knowledge and skills; or clubs where colleagues can share their passions, develop the co-working relationship and acquire new abilities such as Toastmaster club, Football club, Athletics club, etc. In addition to that, being a good working environment means having democracy and two-way communication between managers and employees. Join the FTV family to discover more about the colorful working culture here, which is also known as one of the most beautiful factories in Vietnam.